Virtual care provider is reducing wait times by efficiently aligning public and employee benefits services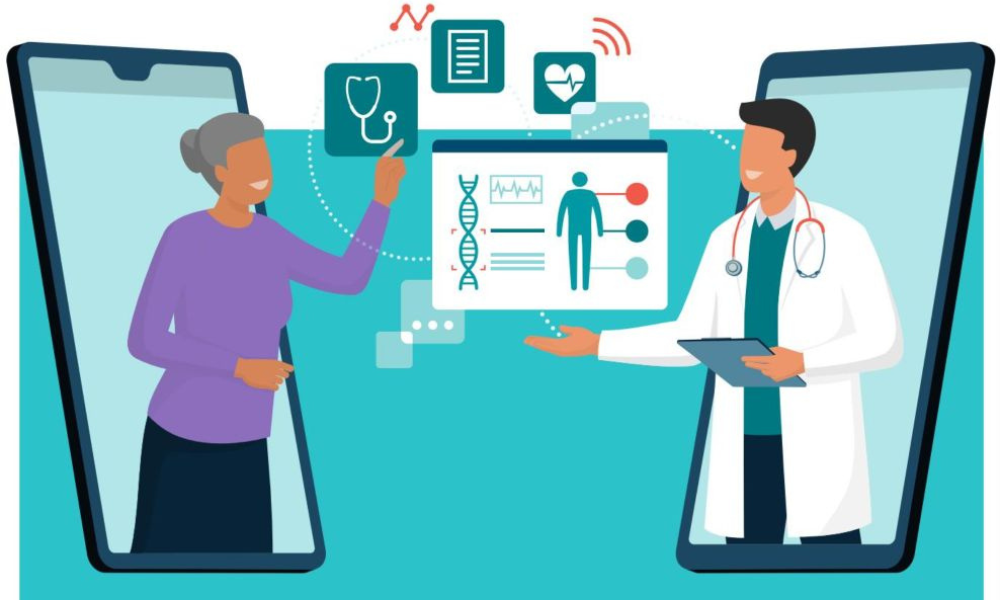 One company is breaking new ground in the healthcare industry – at the click of a button.
There are several reasons why plan sponsors are using Gotodoctor's services, from reduced wait times (up to 75 percent, the company says), to an improved return on investment for sponsors and employers, to their blend of in-person and virtual care through 250 CareBridge pharmacy and clinic sites.
Gotodoctor, with its partner Enhanced Care, is bridging the gap between public healthcare systems and employee benefits services and, as the preferred virtual care provider for the McKesson Retail Banner Group and Rexall pharmacies, there's no other company reaching the same breadth of communities, according to its president and CEO, Tommy Cheung.
"What we wanted to do is align with the public healthcare systems and maximize the benefit that's available for the employee benefit side," said Tommy Cheung, president and CEO of Gotodoctor. "What we have seen in the market is that there is a big silo between the two sides, and we came up with a new process with our platform, with the technology to support it. We call it the service engine, which basically helps members navigate and find the right service, and it goes 'way beyond just typical virtual care."
Gotodoctor delves into the public system, locating available physicians or specialists tailored to a patient's specific needs. Once identified, they proactively engage with the plan member, offering them a range of options.
Normally, when it comes to family physicians, the wait time can be frustrating and uncertain. Instead, Gotodoctor explores various options, depending on the individual situation. Cheung uses the analogy of a ski lift – the first one may be full, but look beyond it and there's another one coming. He also used mental health cases as an example of the benefit Gotodoctor can provide.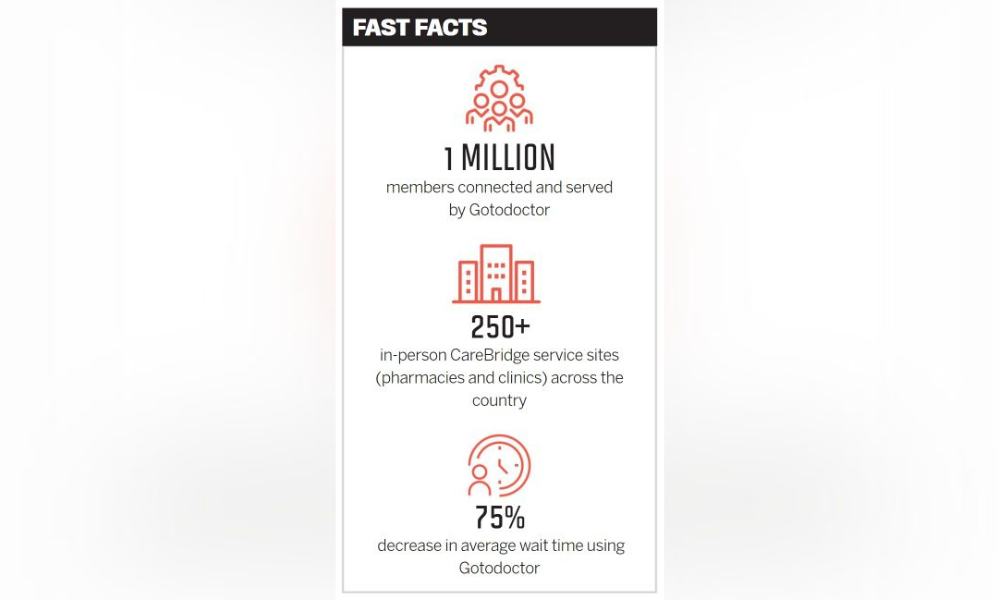 For example, Gotodoctor recently had a patient who needed mental healthcare. Gotodoctor's navigation service was able to get a clear picture of the member's needs and the available options. From the original referral, which involved a wait time of six months, they were able to find a new option within a couple of weeks, in a local hospital that had a psychologist and a new mental health program.
"Six months is a long time," Cheung explains. "You talk about productivity, quality of life, and [within that time], a medium-term issue could become a significant issue."
"You're talking about cutting time," Cheung says. "It sounds simple, but it's very significant – and there's more to do. We didn't just run it in parallel. We found the program and he agreed to explore that … That's where we see the impact of our service – to help patients with access."
With the reduced wait times Gotodoctor provides, Cheung says they are helping employers and sponsors save hundreds of dollars by accessing public healthcare, so they don't have to pay twice.
"There is virtual care coverage for physicians to provide a service in almost every province. Is it required that the employer pay for it again? I'm an employer myself. I don't mind paying for it when it's not covered by the province, but when it's covered, I want to align with it."
Employers and sponsors also benefit from having access to the sheer number of clinics and pharmacies that Gotodoctor provides. Once this benefit frees up company dollars, the money can be allocated to other services like coaching and prevention, which in turn enhances productivity and the well-being of the workforce.
Arthur Kennedy, senior advisor for Gotodoctor, explained why they use the public health system as much as they can. "A lot of the competitors in this field are creating a parallel system," he said. "They're recruiting nurses, doctors, etc. We fundamentally believe in and respect the public system, and we're just trying to enhance it."
Kennedy describes a situation in which they had a patient who needed a biopsy because a lump was discovered in the liver. If a biopsy is four months away, the patient's going to be anxious, and so Gotodoctor can suggest an American provider who will do the biopsy. But they'll still bring the patient back to their oncologist.
"All we've done is compressed one particular portion of the process. But now we're back into the public system. So that's what we try to do, as best we can – use resources that are already available," Kennedy added.
"When someone has diabetes, they may have a mental health issue or some kind of issue attached to that. But from an employer's perspective, we can get right into the prevention side of things. With this kind of coaching and this kind of material, that's where the real savings come in. If someone has metabolic syndrome and we prevent type 2 diabetes, that's a massive savings to the employer," Kennedy said.
As the healthcare system across Canada continues to recover post-pandemic, a recent study released by the Canadian Medical Association found that one in five Canadians is still without a family doctor or struggles to see the one they have.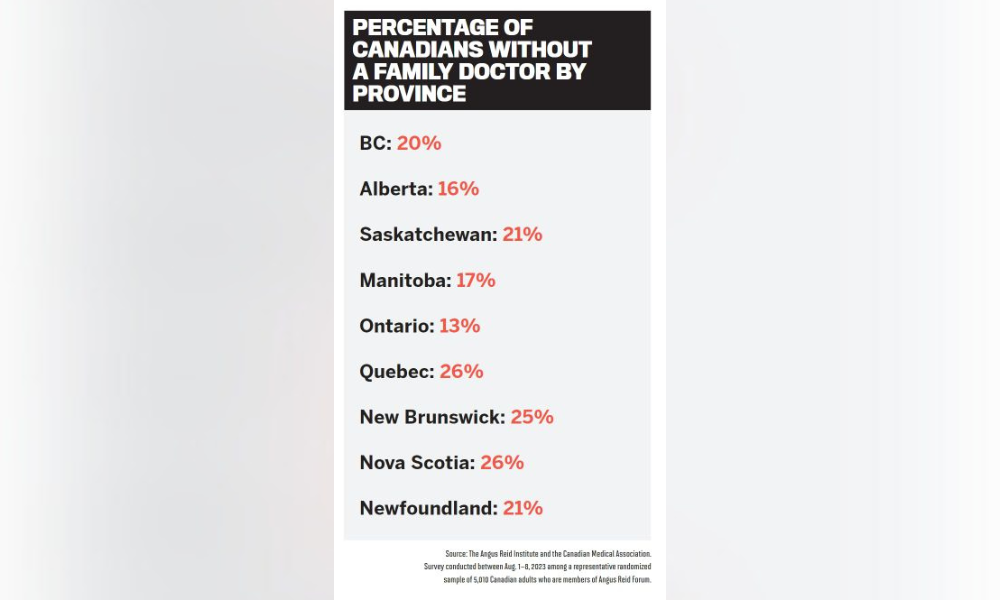 "The challenge is that none of the providers will have the time they want to provide all the options to their members," Cheung said. "If they can spend more time using our system and using our service engine technology to help them, then they would be able to know what options are available. The more patients we service, the more efficient we will become."
Gotodoctor provides online services like general assessments, prescriptions and renewals, health and wellness, counselling and lab requisitions, and pediatrician consultation. Cheung said Gotodoctor provides healthcare service to between 20,000 and 25,000 members and patients every month.