Women have covered a lot of ground in the quest for equity – but an ecosystem of support will ensure they truly thrive as leaders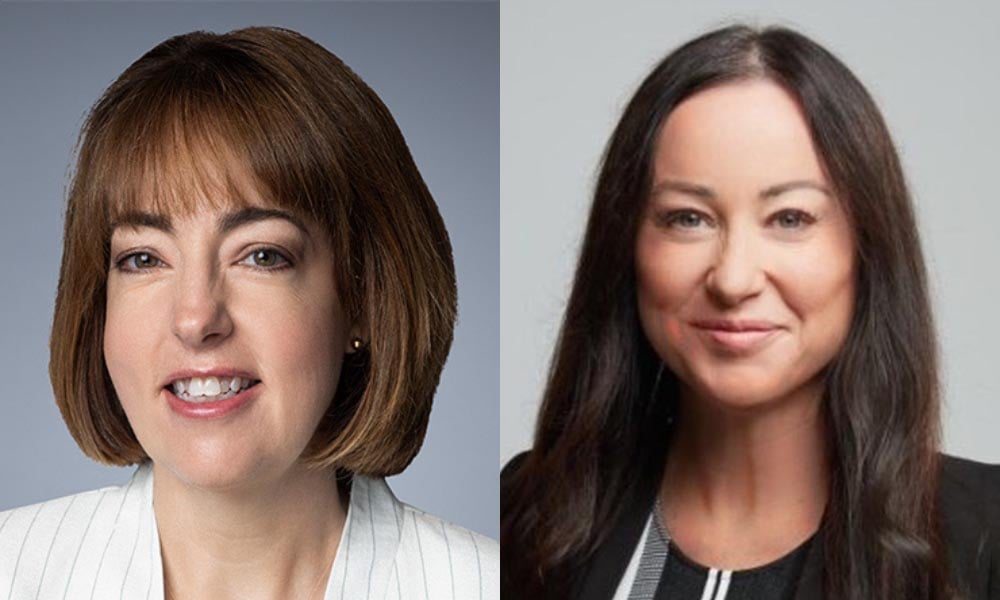 Women have flourished as leaders and great strides have been made to create spaces for them to succeed; achieving a satisfying work-life balance, however, remains as elusive as ever.
Speaking at a Female Leadership Roundtable, executives Sarah Donahue and Samantha Cleyn assert that for women to thrive as leaders, there must be an entire ecosystem of support. Donahue is the managing director of consultant relations at MFS Investment Management, and Cleyn is the managing director, head of institutional sales & service for BMO Global Asset Management.
However you define a successful leader, the path to becoming one is not straightforward for any woman, whatever advantages and disadvantages accorded at the outset of her journey. Yet the women we interviewed also show us the pride, satisfaction, and fulfilment that leadership brings them.
While the new century has ushered in programs such as the diversity, equity, and inclusivity (DEI) framework to improve representation, that representation has been numerically lacklustre. At present, every indicator of headway in female leadership is insubstantial. For example, women make up only 24 percent of executive officers in the financial services sector.
Historically the workplace was blind to the realities of working women's lives and somewhat dismissive of the strength and value of women bringing their whole selves to work. For both Donahue and Cleyn, their village of support forms the scaffolding from which to succeed; it is what keeps them working well and standing strong.
Leadership affords the ability to effect change, and these two women are making a conscious effort to ensure that the same voices aren't always consuming most of the air.
What made you choose a career working in the institutional investment industry?
Donahue: I started in the institutional business truly by accident, but I immediately loved the industry. I appreciated the fact that no two days were the same, that every day was a mix of dealing with fire drills and working on long-term projects, which is still very much the case today. At its core, my job is anticipating and solving problems. I walk away at the end of the day with a sense of accomplishment.

I think it's important to expose women to the financial industry and to different career possibilities. I truly believe there is something for everyone, and I would be a great example of that.
I always try to remember that my firm is managing pension assets for hard-working people. It's an honor and a huge responsibility. For those who are looking for a job with purpose, this is an industry to consider.
Cleyn: This was an industry that chose me more than I chose it. Upon graduating, I really didn't know what a pension fund was. Nor what the word institutional meant. Universities can do a better job of making students aware of the wide array of career options that do exist in finance. When I was graduating a lot of emphasis was put on the big bank rotational programs, but really nothing else.
Today there are a lot more co-op opportunities available, and there's more active recruiting by firms in the industry. It's helped to put a bigger spotlight on institutional investment management. But when I graduated from my undergrad, all I knew was that I wanted to work with investments.
I had no real idea what I was qualified to do, and I started as an investment advisor at Edward Jones. I did that for a couple of years, and while I loved the firm, I felt the retail environment was not for me.
It was then that I made the conscious decision to go back to school to do an MBA and CFA and was fortunate enough to snag an internship at an investment consulting firm coming out of my program.
If you had to give career advice to someone you know starting out in this industry, what would it be?
Donahue: It comes down to plan, people, and purpose. First off is plan, and I would say to people starting out, don't get so fixated on a specific career path. Earlier in my career, one of my bosses stressed that change brings new opportunity. I'm a planner at heart and I always tell myself, give chance a chance. What interests you now might not be what interests you in the future; be open to new opportunities as they arise.
The second [issue] would be people; don't take for granted working with a great team. It's not always guaranteed, and it makes a huge difference to the enjoyment of your job. Look out for companies that are working to foster a great culture and understand the importance of camaraderie.
Last comes purpose, and this is one I'm still trying to take to heart. Find time in your day or week to think deeply and strategically. When you have kids, your calendar starts to fill up more and more, and finding an hour for yourself gets harder. Make sure you start carving out time early in your career for creative thinking and to continue to educate yourself.
Cleyn: I've been blessed to have had a couple of great mentors – and, importantly, to be a mentor to many young individuals in the industry – during my career. My first piece of advice would be to latch on to a great mentor. Someone who can be there to help guide you when you make the difficult decisions as you progress through your career.
The second advice I'd give is to be willing to start at the bottom. Getting your foot in the door at the right organization to gain the right experience is going be critical for your future success, even if it comes with a slightly longer road, less pay, or more hours today.
Another thing is to be very patient. What I have often seen with individuals earlier in their careers is that they're more likely to jump to a more restrictive role for a bit more money or because they believe they're not progressing quickly enough in their current role. However, the impact of doing so too early can be far more costly farther down the road. It's akin to the analogy of not being able to see the forest for the trees, and a good mentor can really help to keep you on that right path. I'd encourage people early in their careers to work in consulting or that type of role, where you can get broad exposure and the ability to touch on different client types, different issues, different investment managers, different projects. That is fundamentally the best base that you can build in your career. I always say be a generalist first and then seek to specialize later in your career.
And finally, build your network. It's such a small industry. Everybody moves around into different roles at different organizations – hence building your network is critical to your long-term success.
What can companies do today to help support and nurture top female talent in the industry?
Cleyn: Compared to when we came into the industry, it's certainly better than it once was. The flexibility around work arrangements has really been a game changer.
In this time, you've seen policies supporting parental leave that have alleviated some of the burden on women and the stress of having to make that decision of whether they take time with their young babies or get back to work to focus on their careers.
Having children and raising a family are the two things that can really stall a female's career progression within an organization. Anything that the firm can do to really ensure that top talent is not disadvantaged or doesn't have to make that choice of whether to have a family or not can go a long way.
That includes addressing gaps in pay and delayed promotions or promoting flexible work arrangements. More tailored health and benefits packages geared toward women can also help with some of these challenges.
A lot of efforts to date by organizations have been focused on the recruitment of women to satisfy the "D" in DEI, which is great, and we are seeing record numbers of women take top positions in organizations. We are beating out men in recruitment searches – but once top female talent is onboarded it's all about retention, and that is where the focus really needs to be on the "E" and "I" of DEI – equity and inclusiveness. Equality alongside male counterparts is key. It's great to invite them to the table, but women also need to be given an equal voice and an environment and tools to ensure they succeed once given the opportunity. This is especially crucial today, when the competition for female talent is fierce. While considerable strides have been made over the last 10 to 20 years, this is where companies can still do more.
Donahue: Adding to Sam's point, organizations can work toward placing greater importance on mentorships and internships for woman earlier in their careers across various fields within finance to help with equity and inclusivity.
It's also increasingly important for people to feel like they belong at the company they work for, especially as people are returning to the office. Employee resource groups, or something similar, are a great tool for this.
Last, we must be sure to organize meetings in a way that allows people who are perhaps less outspoken to be able to share their thoughts. This ultimately promotes inclusion and is something for managers to be mindful of.
Cleyn: I am in complete agreement with Sarah. Sometimes women are more cautious in terms of what they bring to the table, whereas men are much more confident. We need to recognize those differences and build programs within an organization to engage with women who tend to shy away from being vocal and allow them to have access to the same opportunities, because they won't instinctively put their hands up.
How do employers attract more woman to the industry?
Cleyn: Start early. I'd go as far as to say it needs to start in high school. I'm not saying recruitment per se by organizations but start within the education system itself – the classes that are offered – and getting women more excited about them.
Unfortunately, I find a lot of economics or business courses that are offered in high school are often put up against the sciences. If you had a course early on that introduced basic concepts of trading or portfolio management or learning about the stock market, I think you could sway a group of women to pick that. Taking the first steps down a path that will lead them into a career in finance.
The example I want to give, even though it's not about finance, is my daughter's. My daughter is in grade 9, and last year in grade 8 she was offered the opportunity to participate in a female-only programming elective at her school. This is something that is typically what men or boys tend to gravitate to. But this class was just for women and was such a success.
It's important to have these types of male-dominated areas introduced to women in a format where it's women only. Then the women are not shy to participate and potentially get overtaken or dominated by a population of boys who are also participating. I thought this was a phenomenal idea.
Donahue: I'm happy to share a personal story as well. My son entered grade 9 this year and had to make course selection decisions and ultimately had to determine whether he wanted to pursue a more artistic career, enter the field of computer sciences, or potentially set foot in the business world. Truly, I don't think he understood where going into a business program could lead him.
I agree with Sam – providing young people with education surrounding the different opportunities and paths within the financial industry and, dare I say, basic financial knowledge is essential. Things such as creating and setting budgets, banking, taxes, and having a credit card are crucial and should be taught, ideally at an early age.
What are some of the challenges that you faced developing your career in the industry?
Donahue: A lack of confidence – and I wish I had been given a formal mentor earlier in my career. If I could go back, I would tell my younger self the importance of mentorship. However, it's never too late, and I do have one now. I believe strong mentors have the ability to help build confidence.
I would also stress mentorships can also be found less formally. You don't necessarily have to pursue one through your work, but look for an ally.
In addition to asking for a mentor, my advice would be to initiate discussions about your career development. Women may shy away from such conversations, but I think it's crucial to establish a career growth plan early in your career. Ideally, the plan provides different options, allowing for flexibility.
How do you balance work and family?
Donahue: I think most people hate the phrase work-life balance. I have come to learn that there is no such thing as work-life balance – sometimes work takes up more of my time, and then there are times where my family takes up more of my time, and I've grown to accept this.
I was also very fortunate to have a great boss who understood when I had my kids that I would go through a period of sleepless nights and a wave of sick days when my kids entered daycare, and her support meant a lot and it still does.
Women require more support when their children are very young, and if an organization can show employees support and compassion, you end up with more loyal employees in the future.
Cleyn: My challenge was building a family and building my career at the same time. It was incredibly hard to do. You're on all day, and then often all evening and all weekend. It was a lot of work, and I admit I feel a bit of that fatigue today.
I was young, so I did it a bit backwards in terms of having my two kids before the age of 30. What's sad is you often see women in this industry hold off on having kids until they're well-established in their careers, often in their forties, when there are arguably a lot more risks to having children. Or you see some women having to sadly abandon the idea completely, and it shouldn't have to be that way.
I think Sarah and I are both proof that you can have both, right? But the sacrifice was hard. It all goes back to what support system you have in place.
One of the best support systems in my career so far has been my clients. When I was a consultant, my clients were aware of the situation I was going through, and they worked with me to ensure that, if we needed to travel or if meetings were flexible, we scheduled on the week when I was free. One of my big clients I ended up traveling around the world with for the better part of two years with this understanding and flexibility, and, more importantly, it never hindered the quality of the work or deadlines being met.
He wanted me and I wanted that opportunity to work with his organization. It was mutually beneficial – but that's it, we supported one another, and I am forever grateful for it.
What do you want your professional legacy to be within the pension industry?
Donahue: I aspire to have a lasting impact and be remembered for being persistent, hardworking, and thoughtful. I would also like to be remembered as a kind and collaborative teammate who fostered an inclusive environment. I really do love my job, and hopefully that comes through.
Cleyn: I want to be remembered as fearless – not afraid to speak her mind or challenge the status quo. Leaving a legacy of having been collaborative with competitors and peers alike. Above all else, as someone who never compromised her integrity and always did what was right for her clients. Being honest will get you the farthest in the long run.
Donahue: Sam and I worked together on a few projects when she was a consultant. We both understood the goal was always to get the client to a better place in the most efficient way possible. It's clear we both value the importance of collaboration – and luckily we get along really well, too.
Cleyn: I echo Sarah's comments. She is a friend and I have the utmost respect for her. At the end of the day, we work for competing firms, but I'm a strong believer that we're all working together with one goal, and that's to do the best by the clients. That's ultimately why I come to work each and every day.